Hi folks, dropping in for the first time in a long time I suppose. I've been incredibly busy with client work and also with some upcoming prints and projects of my own (more of which I'll reveal throughout August).
The latest 'big news' round these parts would be my recent corporate identity project with Sixteen South in Belfast. Sixteen South have garnered a great name for themselves in the world of childrens television, with the successful production of Sesame Tree for the BBC's cbeebies channel in the UK. They're currently filming a second series and following on from Sesame Tree's success, another original programme, Big City Park has been created. (this is where I come in).
The chaps at Sixteen South called me in to cast a fresh pair of eyes over the show's logo. It was quite a tough brief and definitely a team effort. Dougie and Colin have worked long and hard on Big City Park and had been working on logo ideas for quite some time, so I think the finished result is a professional, collaborative piece and one which works well within its medium.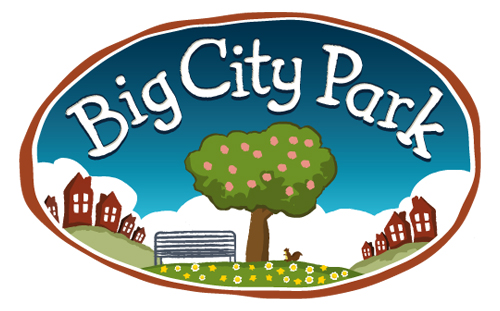 The first episode airs on the BBC this morning at 9.00am on the cbeebies channel. If you've got little ones – I'm sure it'll only be a matter of time before you hear them chanting the Big City Park theme tune and from what I've seen in the Editing Suite, it's shaping up to be a great kids show.
As for me – I'm just as proud as punch to have my work associated with such a well crafted piece of childrens television. This is definitely a ground-breaking moment for Hand Drawn Creative to have its work right up there on the BBC!